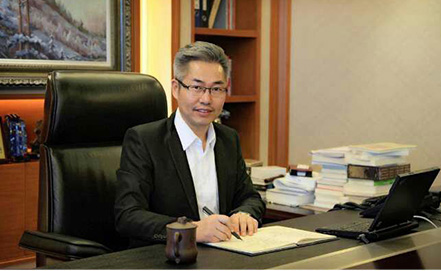 Dear friends,
Welcome to the website of Xinjiang Central Asia Petroleum and Gas Co., Ltd.
2016 has been another splendid year for us, which has kept the track record of our advance and progress. A website upgrade is underway at the New Year 's Eve. Along with this update, we're set to meet the world with new images and fresh ideas.
CAPEIC is an ambitiously vibrant group. Under the guidance of the grand Chinese Dream, we've long been the practitioner of Xinjiang Spirit. Located in the hub of "One Belt and One Road", we follow closely the development in oilfield exploitation. We dedicate ourselves to local industrial development, and through this way we serve the country in the end.  
"Pursuit of excellence. Creating value for customers". Such business ideas have been acted out ever since the establishment of this company. We commit ourselves to the R&D of proprietary intellectual property rights, the building of an diverse workforce strong enough to compete internationally. The belief that value could be created by science and technology, through culture and labor, is deeply rooted in our mind and actions. Let us work together to achieve a win-win business relation through which mutual development would be realized.
Central Asia Petroleum & Gas Co., Ltd dates its history back to 2000, when several employees from Xinjiang Oilfield Brach, which being subsidiary under China National Petroleum Corporation (CNPC), founded the company. A decade after restructuring, through diligence and great effort, this start-up has now grown into a modern oilfield enterprise, which incorporates oil & gas field exploration and production management, intelligent systems of oilfield planning and construction, associated petroleum gas recovery, power generation and supply.
2008 saw the company services extended to overseas market. Kazakhstan Kubasay and Belize oilfield in Gulf of Mexico were exploited by our team that year. In cooperation with CNPC (Turkmenistan) Amu River Gas Company, we contracted "Power Supply Program" in Turkmenistan in 2010. This program won us an award from CNPC as"Pioneer Iron Workers". In 2014 we undertook development and construction of Marley Su oilfield in Kyrgyzstan. In addition, our past projects also include eastern Junggar (Zhundong) oilfield in Xinjiang, Atrau oilfield in Turkmenistan and Al-Waha Oilfield in Iraq. In 2016, Mr. Li Wenbin, chairman of the company, was honored as "model worker of Xinjiang Autonomous Region".
Economic globalization brings about both competition and cooperation. In some way cooperation set the foundation for competition. Constant elevation to core competence and capacity for sustainable development is crucial for our future success. Within this ever changing world, our duty is to ensure continuous and profitable delivery of energy resources to the community. We shall be actively involved in public welfare undertakings, and fulfill due responsibilities. We take much pleasure in contributing our share of work to the stability and prosperity in Xinjiang.
"A gentleman should constantly strike to become stronger just like the evolution of the universe."
It is always a pleasure to meet a friend from afar. We shall greet friends all over the world with sincerity and openness. Inquiry and negotiation are always welcome. Looking forward to any fruitful collaboration and joint achievements between us.